Applied Real Estate Analysis, Inc.

914 S. Wabash
Chicago, Illinois 60605

phone 312.461.9332

fax 312.461.0015

www.areainc.net




© 2003-08 AREA, Inc.
SEARCH areainc.net

Find pages with
all any
of these words:






Additional Staff Members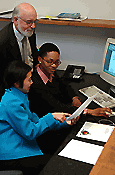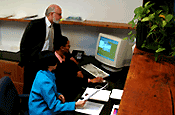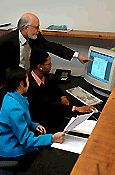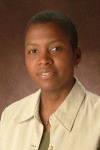 ChaNell Marshall, Junior Analyst, brings research and analysis skills to the AREA team. Ms. Marshall has expertise in examining the impact of physical development on community empowerment and growth in disinvested areas. Currently, Ms. Marshall assists with several national affordable housing studies and market studies for multifamily residential developments in Chicago. She also helps provide technical support for AREA Rents™.

Before joining AREA, Ms. Marshall was an Assistant Project Manager for Bronzeville Construction Company and a research and development intern at the Center for Neighborhood Technology. At CNT, she assisted with a transit-oriented development case study funded by the US Environmental Protection Agency, which was published by CNT in "Communicating the Benefits of Transit-Oriented Development."

While attending the University of Illinois at Chicago, Ms. Marshall participated in a study-abroad experience during which she analyzed the social impact of physical development in preparation for the 2012 Olympics in London. She also aided the Dean of the College of Urban Planning and Public Affairs in publishing works on international scholarship in planning research for HUD and the Joyce Foundation.

Ms. Marshall holds a Master of Urban Planning and Policy degree from the College of Urban Planning and Public Affairs at the University of Illinois at Chicago.




Jan Stempel

, Senior Consultant, has over 15 years of experience helping executives implement creative solutions to business and information challenges. She is experienced in database conversions and designing new database systems; in streamlining and automating tasks that have become cumbersome when done manually; and in improving the quality and quantity of information available to management.

Ms. Stempel is also skilled at communicating system capabilities in clear, straightforward language, so that even nontechnical people can understand and make the best use of their systems. She holds a Master's degree in Business Administration from the University of Wisconsin-Madison and a Bachelor of Arts degree from Yale University.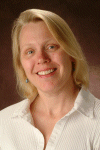 Truda Stockenstrom, Bookkeeper, has wide experience in the private and nonprofit sectors. She managed finances for Ox-Bow, a nonprofit affiliated with the School of The Art Institute in Chicago, and was operations manager at Homebodies, a home fitness company. In addition to her AREA responsibilities, she currently performs bookkeeping for a corporate law firm and works as a Quickbooks consultant, as well.

Ms. Stockenstrom is also a talented writer and translator. Her translation and adaptation of August Strindberg's Miss Julie was performed at the Court Theatre in Chicago and later off-Broadway in New York City. She was the original translator of the stage version of Astrid Lindgren's Pippi Longstocking. Ms. Stockenstrom earned her Bachelor of Fine Arts degree from Southern Methodist University.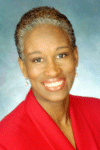 Lisa A. Thompson, Senior Analyst, brings over 16 years of real estate industry experience to AREA. She specializes in commercial market analysis, specifically retail market analysis.

Ms. Thompson has served many real estate clients in the areas of real estate site selection; acquisition and disposition; property management; marketing strategy; process re-engineering; training and development; and outsourcing strategy. She also has provided real estate consulting services to various multi-national corporations, including American Express, McDonald's, and Royal Bank.

Ms. Thompson holds a Bachelor of Science degree in Mechanical Engineering from the University of Illinois, Urbana, and earned her Master of Business Administration in Finance and Marketing from the University of Chicago.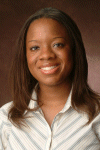 N. Kim Wright, Senior Analyst, supports AREA projects that specialize in housing, community development, and economic analysis. She brings experience in strategic planning, retail programming, downtown revitalization strategies, and marketing luxury residential projects. Many of her assignments have involved large-scale developments and public-private partnerships.

Before joining AREA, Ms. Wright worked on such projects as: retail market analysis and planning for Princeton University; a retail demand analysis and tenant-attraction strategy for a declining retail corridor in Lower Manhattan in New York City; market demand analyses of office, retail, hotel, and residential uses as well as visitor projections of the WTC Museum development for the World Trade Center Memorial Foundation; highest and best-use analysis for the Port Authority of New York and New Jersey in connection with the conversion of the Powerhouse Building in Jersey City, New Jersey; and analysis of market potential for transit-oriented development near an existing rail station in Washington, DC.

In addition to her private sector experience, Ms. Wright has worked as an analyst of fiscal policy and public programs for the US Government Accountability Office, where she audited federally funded programs as well as the internal operations of individual federal agencies.

Ms. Wright earned a Bachelor of Arts degree in Political Science and Urban Studies from Canisius College in Buffalo, New York, and earned her master's degree in Public Management with a specialization in Public Sector Financial Management from the University of Maryland at College Park.




Deborah Brett

is a Senior Consultant with over 30 years of experience in conducting real estate market research and tracking trends in real estate. Her areas of specialization include market studies for both subsidized and market-rate housing, as well as economic development and revitalization strategies for downtowns and neighborhoods.

For AREA, Ms. Brett was a key researcher and analyst on the evaluation of supportive housing for persons with disabilities and the analysis of Habitat for Humanity programs. As a Vice President of Real Estate Research Corporation (RERC) in Chicago from 1980 to 1991, she directed large-scale HUD-funded research on infill development opportunities and constraints, and on the effects of new shopping center construction on established retail business districts.

She also directed market studies and project planning efforts for private investors and developers. Earlier in her career at RERC, Ms. Brett served on the study team that produced landmark policy research on the public costs associated with unplanned suburban growth (published as The Costs of Sprawl in 1974).

Ms. Brett is a frequent speaker at meetings of professional and civic organizations. Her articles on demographics, community development, and real estate issues have been widely published in professional journals and corporate publications. She is a regular contributor to books published by the Urban Land Institute (ULI) and coauthored a ULI textbook on real estate market analysis methods and techniques.

Ms. Brett holds the AICP designation of the American Institute of Certified Planners and was elected to Ely Chapter of Lambda Alpha, the real estate and land economics honorary society, in 1989. She earned a bachelor's degree in history and a master's degree in Urban and Regional Planning from the University of Illinois at Urbana-Champaign.




Barbara Bryan

has over 20 years' experience in real estate investment analysis, affordable housing finance, and strategic planning. She has provided consulting and technical assistance to federal and local government agencies, business owners, community development organizations, industry trade associations, U.S. and European institutional investors, and Native American tribal officials.

Ms. Bryan has extensive experience providing capacity-building assistance to nonprofit organization boards and staff, particularly those involved in affordable housing development. She has been involved in pilot initiatives to increase the role of homebuilders and financial institutions in high-volume affordable housing production. She has worked with numerous organizations producing and managing transitional and service-enhanced housing for persons with special needs.

She has produced market and financial feasibility for housing, hotel, office and retail properties throughout the U.S. She has assisted both private and public sector entities in strategic planning, effectively leveraging the use of public funds and troubleshooting for difficult-to-develop sites.

Ms. Bryan holds a master's degree in Urban Studies from Trinity College, Washington, D.C.